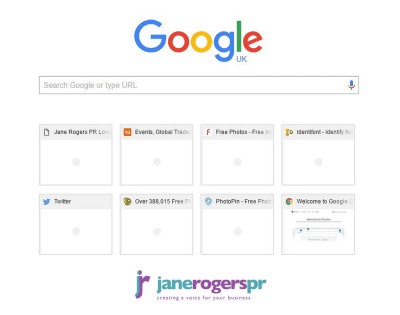 How PR can help your Search Engine Optimisation (SEO)
Following my recent talk for Networking Cupper on how PR can help your search engine optimisation, I've turned my talk into some top tips.
1. PR is part of your off-page SEO
PR is about raising awareness of what you do, helping others to recognise your brand. By its very nature, PR activity has the potential to drive customers to your website. You might hear this referred to as off-page SEO.
Off-page SEO is essentially anything you do outside of your website to help improve its search engine rankings. This includes things like link building and social media traffic. It also includes PR and marketing activity.
Whether you are publicising your business through media coverage, social media, leaflets, brochures, networking, email marketing or any other PR or marketing activity, this can help prospective customers find your website.
Tip: Be sure to include your website address in your marketing materials and email signatures.
2. PR and SEO need great content
Most of us working in PR spend a lot of time creating content for our clients to tell their story or position them as an expert. And Google loves great, authentic, original content. When search engines are trawling the web to index websites, they look for fresh content and will rank pages according to their relevance on certain topics or keywords.
So it makes sense to ensure your website has plenty of great content relevant to your business. This not only shows search engines that your website is worth indexing but also helps to position you as an authority on your subject area. After all, more people are likely to buy from you if they trust you know what you're talking about.
The best way to add regular content to your site, aside from the specific pages that talk about your business and its products or services, is by keeping a blog. According to Hubspot, 57% of businesses have acquired a customer through their company blog.
Your content needs to include your keywords but don't stuff it jam-packed full of them – search engines are now wise to this 'over-optimising' and will penalise you. It's more important to write naturally, for the reader. Write as if you were in conversation with your customer, talking directly to them.
Tip: keep your content regularly updated with new blog posts and/or a social media feed, such as Twitter, embedded in your site.
3. Media coverage creates authority links
Generating media coverage is an excellent way to boost your search engine optimisation.  This is because search engines trust the content on authority websites such as news or lifestyle sites. Links back to your website from these sites (which have great SEO themselves) signal to the likes of Google that your content can be trusted too.
Media coverage is third-party endorsement for your business or brand. People take more notice of editorial content than they do of paid adverts. The added benefit of online coverage is that endorsement is a key factor in how search engines decide to index and rank websites.
So getting some coverage for your business raises your profile and gives more visibility to your website.
Tip: the more influential the site where you get some coverage (e.g. a national newspaper, the BBC, a well-known blog etc.), the more highly search engines will regard your site.
4. Get your business on listings sites
In the same way that links back from media coverage help to improve your search engine optimisation, so too do links from well-regarded listings sites and directories. They're another way of raising the profile of your business and therefore a key PR tool.
There are plenty of listings sites around, both for your industry and your geographical area. Getting listed on Google is the obvious one to start with. If you're registered with any professional  or membership bodies, make sure you're listed on their directories, like I am with the Public Relations Consultants Association.
Check out what's available to you locally as well. Sites such as The Best Of or TownTalk for your area are a good place to start but there will be those specific to your locality such as Beckenham.net or WoW Bromley here in Bromley. Some of these sites will also let you put up your own news or blog posts.
Tip: make sure what you write for each directory listing varies slightly and provide a link back to your website.
5. Get recommended!
We all know the power of word-of-mouth and recommendations. How many clients have you got because someone has recommended you? Capturing these recommendations or testimonials online is a powerful way of promoting your business and will, of course, help with your search engine optimisation.
People take note of other people's opinions. How often do you look at reviews on TripAdvisor or Amazon before you buy something? The same goes for your business. And the beauty of online recommendations is that they're also third-party endorsements in the same way media coverage is. Because someone puts up the review or recommendation themselves, others are more inclined to believe it.
Tip: your customers can leave reviews for you on some of the listings sites mentioned above, as well as on social media like your Facebook business page, Google My Business page or LinkedIn. WoW Bromley even pulls in social media reviews into your local listing.
---
So there you have it, my tips for using PR to help boost your search engine optimisation. Have you already tried any of them? There are many more things you can do, of course. To help you understand more about SEO, I have invited local SEO specialist Rachel Hodges to write a guest blog for me in May.
Don't miss Rachel's blog post; add yourself to my mailing list to receive it as soon as it's published.