Kick-start your content marketing with a planning session.
Why do you need content planning?
As the saying goes "Failing to plan is planning to fail." If you don't have a content plan for raising the profile of your business, how are your potential customers going to find out about you?
By having a clear content plan, you'll know what you need to publish, when and where. So, this means you can organise your time more efficiently and promote your business more effectively to the right people, at the right time and in the right way.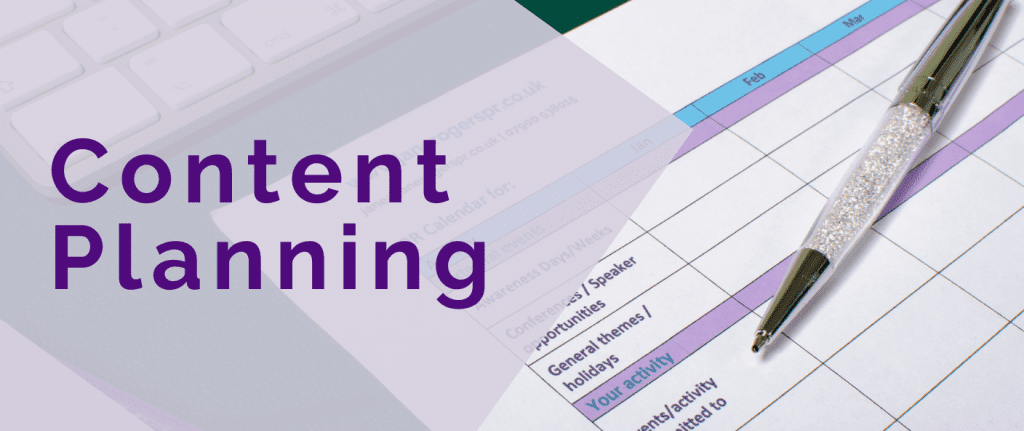 Content planning services
We offer different content planning support to suit your needs. If you want some dedicated time to brainstorm and plan, with advice and ideas from us, check out our content planning sessions.
If you prefer to do it yourself but would like some written advice, ideas and detailed templates to help you create your plan, check out our comprehensive content planner.
Or, finally, if you simply want a basic template to help you plan, download our free Content Planner.
Content planning sessions
What happens?
2-hour online* brainstorming session to come up with content ideas and a plan to promote your business.
We'll look at what you're already creating and publising, to see whether there are areas for improvement.
Together we'll explore the best content types to use, so you reach the people who will buy from you.
We'll look at how you can take advantage of what's going on in the news, your industry and seasonally to help you create compelling content.
We'll also talk about how we can support you with your content marketing and PR, should you wish to outsource any of it and save time to do what you do best.
* via Zoom/Teams/Skype/telephone
What you'll get:
Some ideas for free and low-cost content marketing that you can implement straight away.
Realistic and achievable content marketing goals for your business.

A content planner template, to help you display your plan in an easy-to-view format. Why not pop it on your wall?

A follow-up call in 3 months' time, to see how you're getting on. This will give you some accountability and support to help you succeed.
The peace of mind that comes with having a content plan and feeling confident about your marketing.
Content planning session costs
---
Must be booked and paid for in advance of your session taking place.
Comprehensive Content Planner
Get your 2022 content marketing off to the best start with our comprehensive content planner.

Packed full of useful advice and tips on how to plan your content, it also includes lots of printable templates and planner pages, to print off as many times as you need.
Key features:
A varied selection of awareness days, weeks and months for each month – plus links to help you research more
Content planning, writing and ideas tips
Space to record your branding info – colours, fonts etc. – for ease of reference
Ideal client worksheet
Space to record your frequently used hashtags
Annual planner
12x monthly planners with space to plan all your content
Weekly planner pages to drill down into more details about your content
Stats tracker to keep on top of your progress
Space for your own notes.
Costing just £12.49, the content planner is delivered as a downloadable PDF for you to save and print as needed.
What

our content planning clients say
"We started working with Jane during our initial steps on our Samara Gin brand building in the UK. Jane has been brilliant in every moment of our journey; she is providing great guidance on PR activities, contacts, communication, etc. Her strategy and ways of working are just great! I got to meet Jane through a great recommendation from our marketing agency and I would like other people to enjoy working with her. Jane is a great PR professional, with great accountability and amazing customer service!"

"Jane – your advice and counsel has been most insightful and your work of the highest standard. Thank you for helping our association achieve some amazing things."

"Jane was a critical member of our communications team for three years, taking on the development of content and the production of our customer newsletter. Jane's ability to understand both us as a client as well as our audience means that the quality of the final material is always on time, on message and as a result, highly valued by us and our customers."

"I have worked with Jane in a professional capacity for a number of years now and her input on projects is invaluable. Jane is great at generating brilliant content and copywriting, as well as assisting with the PR and marketing side of things too. I highly recommend Jane's services and her insight and approach is fantastic. Jane is incredibly reliable and responsive too."

"The planning session with Jane was very valuable. She helped me review my PR strategy and gave suggestions on who my target audience are and how to reach them, how to improve my website, other methods of marketing and a very good media planner. I now have a much clearer idea on how to progress."

"We worked with Jane on the opening of our new head office branch, which was successful in every regard due to Jane's professionalism and innovative approach. Jane came up with highly creative ideas and she developed a project management approach to break down all activities into manageable tasks. Jane supported all members of staff and made everyone feel really comfortable with their tasks and responsibilities. I would recommend Jane anytime and would be happy to work with her again."

"Jane has helped to review our communications strategy, revising our messaging and our stakeholder communications (including producing a monthly e-newsletter), as well as identifying new approaches and opportunities. Our public profile and stakeholder satisfaction has improved markedly as a result."

"

Jane recommended that I change my social media planning and posts to be more in line with my whole marketing strategy. She suggested I use Canva more as it is a very versatile tool. Jane introduced me to Facebook's Creator Studio to schedule my posts and she has helped me with tweaking my free download. Jane has given me the tips, tricks and shortcuts to understand how to market my business better. Her wealth of knowledge is given in bite-sized chunks without 'jargon'. I would not hesitate to recommend her

!"

"I met Jane at a Ladies Who Latte networking meeting. I reached out to her to help sort out my PR needs for my styling business. Jane was very conscious of my needs and how to move forward with my business. With 20 years tucked under her belt, she was able to draw up a proposal in no time. The proposal was very clear and concise. Immediately, I could grasp where I needed to change my strategy. She also added valuable tips on how to improve my writing for articles on Facebook and LinkedIn that will get me noticed. There were a few suggestions on how to improve my website too. She is very knowledgeable in her field, easy to work with and very professional."
Don't miss

future updates!
Join our mailing list to receive content writing tips, news, offers and updates.