Last week, I put my careers hat on to help with another Bromley Education Business Partnership event, bringing the world of business to the classroom.
The event, held at Bromley Library, saw Year 13s (what used to be called Upper Sixth Form when I was at school!) from Coopers School and Kemnal Technology College come together for a morning of meetings with businesses and learning about different career choices.
Talks
David Wake of the Construction Industry Training Board opened the event with a talk about the variety of careers available in the construction industry. Director of Bromley's branch of Metro Bank, Duncan Simmons, spoke about careers in retail banking and how students can make the most of themselves in the jobs market. He also told us why he buys lots of umbrellas!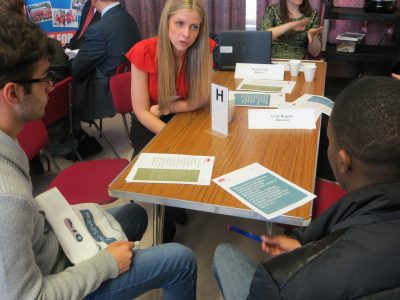 The students also heard from Adecco on job areas with skills shortages (construction, engineering, IT, health & social care and finance, in case you were wondering), Bromley College spoke about apprenticeships and Capita Asset Services talked about careers with them and in the financial sector in general.
Business Ambassadors
In between the talks, those of us who were there as business ambassadors were on hand to meet with the students in small groups and talk to them about their aspirations and career plans. Some had quite clear paths they wanted to follow, others were weighing up their options.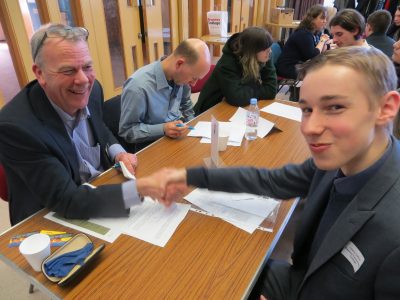 That's where the ambassadors came in, to give the students ideas on things they might like to pursue, based on their strengths and interests. We also talked to the students about soft skills, so much valued by employers but not always covered in school.
I know when I was their age, I had no idea what I wanted to do! It wasn't until after university that I discovered PR. I wish I'd had the opportunity to learn more about careers at school. That's why I'm passionate about helping young people learn about some of their options.
Get involved!
Careers advice and helping young people get ready for the world of work is more important today than it's ever been. With high youth unemployment and soaring university tuition fees, young people need to know what their options are and how they can put themselves in the best position possible to gain work experience and get the jobs they want.
Getting access to employers is crucial for young people to learn about what the employers looking for and for them to start building their own networks early.
So if you, or someone you know, can help young people with the transition from school to work, whether taking part in events like this, offering work experience or mentoring a young person, please get in touch with Bromley EBP today!
All photos © of Bromley EBP.